Adequate nutrition is a basic human need. The physical and psychological consequences of malnutrition, especially undernourishment, affect individuals directly. In a social and political context malnutrition is also the cause and side effect of many crises. To suffer from hunger or malnutrition is often not an individual fate, but the result of complex national or global processes. The problem of malnutrition thus goes beyond the individual person!
"The right to adequate food is realized when every man, woman and child, alone or in community with others, has physical and economic access at all times to adequate food or means for its procurement."

General Comment 12 of the Social Committee (UN Committee on Economic, Social and Cultural Rights) of 1999
With the founding of the UN, especially with the simultaneous establishment of the Food and Agriculture Organization (FAO), the improvement of the world food situation became the responsibility of the international community. Already included in the Universal Declaration of Human Rights (UDHR) in 1948, the "right to adequate food" was again reaffirmed in the UN Social Covenant, Article 11 (1966) and has since been ratified by over 100 states. As usually the case with human rights conventions, the implementation of the "right to adequate food" at a national level is the responsibility of the signatory states. By ratification, the signatory states commit themselves to creating framework conditions for improved food supply and distribution through sufficient measures.
FOOD MUST BE AVAILABLE, ACCESSIBLE AND ADEQUATE
The objective of the right to adequate food refers to three key points: Food must be available, accessible and adequate.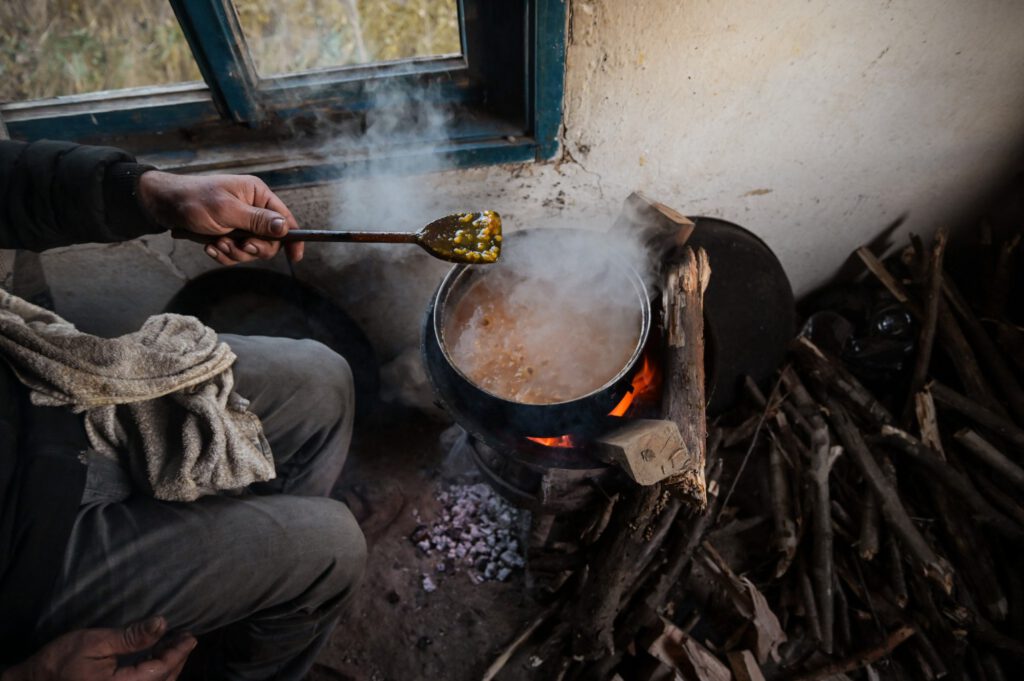 Availability: People must be able to use natural resources to produce food. If people do not produce their own food, food must be available in markets or shops.
Accessibility: Physical and economic access to food must be available. This means that food should be affordable in a relative context. Physical access describes the possibility for all people to be able to acquire food – for example, by expanding infrastructure in remote regions or by providing crisis supplies to affected areas after natural disasters.
Adequacy: Food must be suitable for meeting the necessary nutritional needs (including cultural conditions), taking into account factors such as age, gender or state of health. This is to reduce malnutrition and the consequences of hidden hunger caused by unbalanced diets and insufficient intake of vitamins and trace elements.
THE RIGHT TO FOOD, BUT NOT THE RIGHT TO BE FED
The human right to adequate food sets as a goal structural measures by the signatories against hunger and malnutrition. A good, independent nutrition of the people should be made possible. However, this does not necessarily result in the subjective right of the individual to be fed.
There are high obstacles to enforcing the right to adequate food in court – even if the state in question has signed the agreement. Enforcement is furthermore limited at the international level: The possibility of an individual complaint was only introduced in an Optional Protocol, which has so far only been signed by 46 states. However, even there, the responsible committee can only make a recommendation. In legal reality, therefore, a familiar picture emerges: having a (human) right does not always mean that every person will get it.
ADEQUATE FOOD FOR PEOPLE ON THE MOVE – WE ACT NOW
We do not wait, we act! While international agreements and national legislation are meant to fight structural conditions of (world) hunger, we don't want to turn a blind eye to individual emergencies.
The food supply for several hundred people seeking protection in the Bosnian-Croatian border region is not secure. The exclusion zone they are in is infra-structurally remote. Access to food is very difficult, in some cases virtually impossible.
We want to start where governmental or international structures do not offer an immediate solution. That is why we are currently providing people in this region with food parcels – and we need your support!
Donation account:
IBAN: DE50 4306 0967 1076 2640 00
BIC: GENODEM1GLS
Credit institution: GLS Gemeinschaftsbank eG
Account holder: Ost & Found e.V.
Intended purpose: BLINDSPOTS
PayPal: donation@blindspots.support
Intended purpose: BLINDSPOTS
Find more information on how to support us financially and on simplified donation receipts here.